Discover more from The Monero Moon
The Monero Moon is a curated weekly newsletter regarding all things Monero. Subscribe for free to stay up to date with all the news about Monero - the world's most private, secure, and untraceable cryptocurrency.
The Monero Moon (Issue 50)
The Monero Moon is a curated weekly newsletter covering all the latest news within Monero (XMR).
Table of Contents:
---
Development, Releases, and Technology
Developers have decided to delay Monero's network upgrade (hard-fork) by approximately two weeks, and it will now take place on the 13th of August 2022. The network upgrade will occur at block 2688888 instead of 2668888, twenty thousand blocks later (this was increased from the previously suggested block 2678888).
Monero's scheduled network upgrade (hard-fork) is a consensual upgrade agreed upon by the Monero community in order to improve Monero's privacy and performance, and will require all users to update their software. The software you need to implement to ensure compatibility with the network upgrade will be released any day now (v0.18 Flourine Fermi). This gives everyone a couple of weeks to make the switch. If you use a mobile wallet or other third party software make sure your apps are up to date. Please reach out to members of the Monero community on r/Monero or other social platforms if you have any questions.
The network upgrade will include a variety of new features such as:
Ring-size increase from 11 to 16 to increase privacy

Viewtags to reduce wallet-sync times by up to 40%

Bulletproofs+ to reduce transaction sizes by ~7%, and improve verification performance by ~7%.
A complete list of upgrades and improvements will soon be released along with the new software. If you want to learn more about Monero's upcoming network upgrade, please check out this post on the official Monero website.
If you can help with Monero's upgrade, be it simply notifying wallet or exchange providers, please check out this 'upgrade checklist' to ensure all parties appropriately update their software and make the necessary changes.
Monero developer Luke Parker aka kayabaNerve has announced Serai DEX. According to the announcement, "Serai is a new DEX for Monero, and other coins, which will offer a liquidity pool trading experience. Serai nodes form a economically secured threshold multisig wallet, preventing theft, while offering large amounts of liquidity to anyone who wants to exchange coins, regardless of who they are, where they are, or how much they want to exchange, in a decentralized fashion". Serai will initially list Monero, Bitcoin, Ethereum, DAI, and USDC. Serai are hiring if you are interested in contributing to the project. They currently have a placeholder website and a discord setup. Check out this post for more information.
The Haveno DEX team announced they are getting close to deploying a public Haveno test network.
Feather Wallet, a free and open-source Electrum style Monero wallet, have released v2.0.0! This release is ready for the Monero network upgrade (hardfork) in August. It features a new Polyseed seed scheme, coin controls allowing manual input selection, and many other useful improvements. Check out this post for more information. Download the update here.
MyMonero have released v1.2.8 for both android and iOS mobile device users. Be sure to update and check out this post for more information.
SChernykh has released P2Pool v2.2.1. This is a bugfix release, and this version is required for the coming Monero v15 network upgrade (hard fork). Older P2Pool releases will be incompatible after that.
In June 2022, Monero had 885,569 transactions, just 4% less than all time high of 916,084 transactions which occurred in November 2021.
Additionally, the monthly percentage of Monero transactions compared to Bitcoin was 11.8% in June 2022. In the graph below from CryptoMorpheus_ of Moneroj.net, you can see Monero is showing considerable growth and is being used more and more to transact when compared to Bitcoin.
Want to support the Monero network and get started mining Monero at home? Check out this informative post from Dein_Psychiater in which they outline how easy it is to mine at home using the official Monero GUI wallet. They also provide links to great Monero mining stats. All those orange dots in the world map below represent Monero nodes operating within the last 24 hours! Check out the post here and get started running your own node at home! Additionally the Monero Mining subreddit is a great place to learn more about mining Monero and ask all your burning questions.
Monero developer Gingeropolous has been tracking the number of Monero miners since March 2022. The total number of Monero miners since March appears constant around the mid to high 40k's. This is impressive given the recent market-wide down turn and change in sentiment across all of crypto.
A YouTube channel called Firefox (no relation to the browser) demonstrated how you can mine Monero on a mobile device. Check out this post for more information and be careful if mining on a mobile device!
Monero Observer have put out a new Dev Report to provide a big picture view of Monero development activity throughout the past week. If you're interested in the nitty gritty, check it out here.
---
General News
Bitcoin developer Peter Todd made a blog post on his website titled "Surprisingly, Tail Emission Is Not Inflationary". The blog outlines how a fixed block reward does not lead to an abundant supply. Todd outlines that "due to the inevitability of lost coins, a fixed reward converges to a stable monetary supply that is neither inflationary nor deflationary" and brings to light how "to date no proof-of-work currency has ever operated solely on transaction fees, and academic analysis has found that in this condition block generation is unstable". Read the entire blog post here.
petertodd.org
Surprisingly, Tail Emission Is Not Inflationary
At present, all notable proof-of-work currencies reward miners with both a blockreward, and transaction fees. With most currencies (including Bitcoin) phasin...
Todd also shared this tweet comparing Monero's inflation rate to Bitcoin's.
If you're curious about reading discussion from the Monero community regarding the possibility of Bitcoin achieving privacy via a layer 2 solution such as the Lightning Network, check out this post here. Rucknium from the Monero Research Lab provided a well considered response to a tweet from Lyn Alden.
Monero Talk recently published "A thorough critique of Monero with Giacomo Zucco and Seth for Privacy" as part of a three part series. This video series covers some many different aspects of the strengths and shortcomings of Bitcoin and Monero, and is well worth the listen. Check it out below. At the time of writing Part 3 is yet to be released.
The MAGIC Monero Fund are now offering memberships and special perks for those that sign up. Perks include a special Monero subreddit flair. All membership are donations and tax deductable. Check out this post for more information. MAGIC Grants is a public charity that provides undergraduate scholarships for students interested in Monero and cryptocurrencies, and supports various critical cryptocurrency public payment infrastructure. MAGIC are also holding a special election for a new MAGIC Monero Fund committee member. Applications close July 25th, and you can find more information the election here. More information about MAGIC can be found here. Reach out to them if you'd like to get involved.
It appears there are some people involved in politics are Monero supporters!
Chris Blec made a tweet criticizing Ethereum's move to Proof of Stake as it will allow validators to control the Ethereum network and prioritize transactions. This is something that does not affect Monero due to it being proof of work and having private transactions.
---
Events
Matthew aka mfahmy00 from Monero's Circular Economy Development is hosting a NYC Monero Meetup tonight, the 14th of July at 6pm! Note you must join the page to get all the meetup information. If you're in NYC get down there and meet some other fellow Monero enthusiasts. Check out the Meetup page for all the details. The first twenty five attendees get $25 of their food/drink bill paid for by Cake Wallet!
There is a Monero Meetup in Cape Town, South Africa, at 5:00pm on the 4th of August 2022 at La Prada. More information can be found here.
Justin Ehrenhofer is participating in AMA all about Monero in the Crypto Monks telegram channel today at 2:00pm UTC. Check out the tweet below for more information!

A recap of Justin's previous AMA in the Crypto Miners telegram channel can be found here!
A Monero Research Lab (MRL) meeting will take place on Wednesday July 20th at 1700 UTC. It is planned to include discussion regarding such as decoy algorithms and analysis of transaction volume anomalies. You can find links to and more information regarding the meeting here thanks to the Monero Observer. The MRL meeting will take place in the #monero-research-lab channel on IRC if you want to lurk in real time.
---
Thanks for reading The Monero Moon! Subscribe for free to receive new posts and support my work.
---
Exchanges and Merchants
MyMonero wallet users can now buy XMR within their wallet using fiat currency! Payment methods include Visa/Mastercard and Sepa, and the service supports most major countries except the USA. Check out the tweet below and this blog post for more information.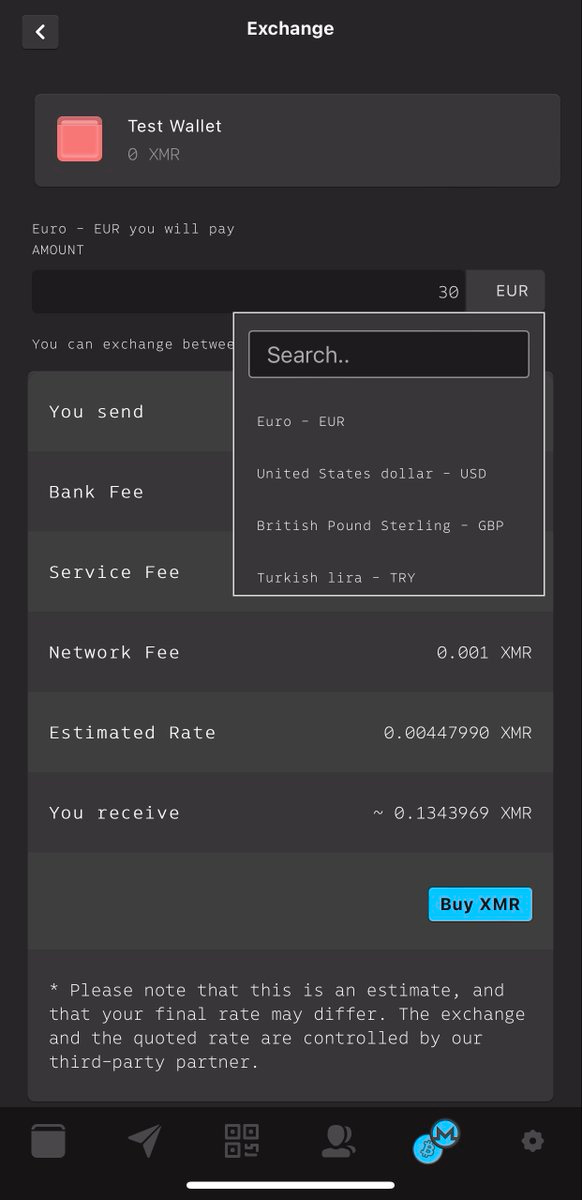 Cake Labs are holding a promo offering 10% extra XMR when you trade any coin to XMR from now until noon EDT July 14, 2022. If you make a trade on the Monero.com website (not within the apps), you are eligible to claim the extra 10%. Check out this post for more details!
reddit.com
r/Monero - [PROMO] 10% Monero bonus when you trade on the Monero.com website starting at noon EDT today!
13 votes and 14 comments so far on Reddit
The Monero Boating Club shared a tweet demonstrating how to exchange crypto for XMR on the KYC-free Monero focused Majestic Bank exchange. You can check out Majestic Bank here!
Huobi Global announced they will be suspending XMR deposits and withdrawals at 23:00 UTC on July 16th 2022, due to the upcoming Monero network upgrade (hardfork). Check out this post for more information.
If you are a merchant using BTCPay server integrations to accept XMR, please note that v1.6.1 has been released which fixes a critical bug and you should update as soon as possible to avoid having customers paying with the wrong exchange rate. More information can be found here.
If you want to accept Monero via BTCPay Server, check out this handy guide from Seth for Privacy.
If you use a Ledger hardware wallet device to secure your Monero, please exercise caution when downloading apps to use with it. See the below tweet for more information. Never type your seed into a computer device!
The Monero Boating Club have provided free Monero sticker templates ready to print and use. Simply download the file and print them out at your local office supplies store. If you use the stickers then the MBC would be grateful for any donations in XMR.
MoneroMerch.com are offering a 10-pack of stickers to US customers only for $15. Check out their website for more information.
---
Community Crowdfunding
Several crowdfunding proposals are awaiting community feedback before they can start accepting funds through the Community Crowdfunding System (CCS). For now they are just proposals, but if they receive some positive feedback from the community they will be moved to a "Funding Required" stage so that they can accept Monero donations through the CCS.
CCS Projects requiring funding or have been recently funded:
---
Trading & Speculation
The XMR/BTC pair has possibly been printing an Adam & Eve bottom (white lines), a potentially bullish reversal signal. According to The Pattern Site, one can "expect a large rise if the double bottom appears after a long, flat base" (purple rectangle).
Monero Talk provided a Monero price report with aFungible. It covers a number of Bitcoin and Monero price metrics. Check out the video below.
---
Performance
Total Monero in Circulation — 18,147,344 XMR
Monero Total Marketcap — $2,242,010,471
Coinmarketcap Ranking — #27
XMR/USD Price — ~$124 USD
XMR/BTC Price — 0.006190 BTC
LocalMonero.co Street Price — $141 USD
Average Transaction Fee — 0.00011 XMR ($0.013)
Monero Network Hashrate —2.610 Ghash/s
Monero Mining Pools Hashrate Distribution —
---
Entertainment
---
Donate
If you like the newsletter and want more of this content, then shout me a round of beers by donating some spare Monero you didn't lose during your boating accident.
49koJtBLRCjcfqVD93fosJGKLYFPZuBUz1iRvqJdMz9yBXV93UgKdSyDSbwUkdsytdSRvwKZhRTPp3de4fXzcioQGAFzWUU
Support Monero
Want to help contribute to the Monero Project? Developers, marketers, event coordinators, translators, Instagram personalities, meme creators, public speakers — whatever your skills may be, it is extremely likely there is something you can do to assist. I urge you to reach out to the Monero community on Reddit, IRC, GitHub, Twitter, or Telegram. The official Monero website is GetMonero.org.
Past Issues
Issue 49 / Issue 48 / Issue 47 / Issue 46 / Issue 45 / Issue 44 / Issue 43 / Issue 42 / Issue 41 / Issue 40 / Issue 39 / Issue 38 / Issue 37 / Issue 36 / Issue 35 / Issue 34 / Issue 33 / Issue 32 / Issue 31 / Issue 30 / Issue 29 / Issue 28 / Issue 27 / Issue 26 / Issue 25 / Issue 24 / Issue 23 / Issue 22 / Issue 21 / Issue 20 / Issue 19 / Issue 18 / Issue 17 / Issue 16 / Issue 15 / Issue 14 / Issue 13 / Issue 12 / Issue 11 / Issue 10 / Issue 9 / Issue 8 / Issue 7 / Issue 6 / Issue 5 / Issue 4 / Issue 3 / Issue 2 / Issue 1
Socials
If you have any suggestions, corrections, or feedback, please contact me on Twitter @johnfoss69 or on Reddit u/johnfoss68.
Thanks for reading The Monero Moon! Subscribe for free to receive new posts and support my work.
DISCLAIMER: This publication contains opinion for informational purposes only and does not constitute investment advice. Information may contain errors and omissions. Use solely at your own risk. The author of this publication and/or the authors of articles linked to from this site may have financial investments that may bias their opinions, including ownership of Monero currency. Always do your own research, form your own opinions, and never take risks with money or trust third parties with out verifying their credibility.